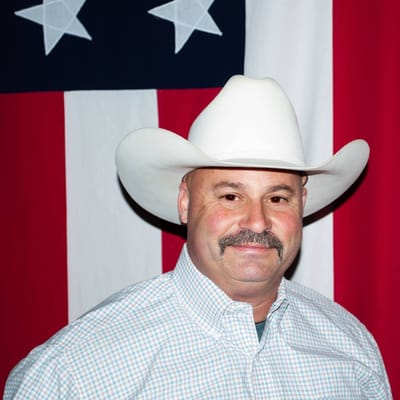 Troy Guidry takes pride in the many accomplishments he has enjoyed in his personal and professional life. First and foremost, he is a husband of twenty-two years to Linde. They have 2 daughters, Madyson and Sydney. Troy is a conservative Republican whose Christian values inspire his life. Prior to 2005, Troy and Linde lived in Tomball, Texas. Desiring to raise their family in a more rural environment, in 2005 Troy and Linde made the decision to move to Waller County and have never looked back.
The close-knit community opened their arms and warmly welcomed Troy and Linde into their Waller County family. Over the past 14 years, they wanted their young family to experience everything Waller County has to offer, so they spent years being actively involved in various activities such as ranch sorting, team penning, and a multitude of other functions. Troy currently serves on the Waller County Fair Board of Directors and has volunteered with the Waller County Fair for over a decade. Serving the community is what Troy truly enjoys doing.
Troy's law enforcement career began with the Harris County Sheriff's Office in 1992. In his 27 years on the force, Troy has proudly served in multiple divisions including the Jail, Emergency Response Team (ERT), Patrol, Mounted Patrol and K9 Divisions.
For the past several years, Troy served and still serves as a Trainer and Certified Instructor for the K9 and Mounted Patrol Divisions. He teaches and trains outside agencies in surrounding counties, cities, states, and even internationally with the United States Drug Enforcement Administration.
As Sheriff, Troy's number one priority is to protect and serve ALL of Waller County citizens. He plans to use his law enforcement background and experiences to expand the reach of the Waller County Sheriff's Office. He wants to establish and maintain a healthy morale within all divisions of the Waller County Sheriff's Office.
Troy understands that it takes a TEAM of very dedicated individuals to run the department successfully. He plans on conducting an internal review of all current Deputies' capabilities and experiences and match them up with the right positions to maximize their talents and productivity. He wants to implement a transparent policy for all staff members to have open and effective communication with leadership and with each other. He believes this will lead to a respectful and ethical Sheriff's Office.
Waller County is a growing community, in both population and business. It is essential, now more than ever, to form solid partnerships with surrounding agencies to expand the use of all available resources. Troy's office would welcome public input from the citizens and business owners in various aspects of Waller County law enforcement as public safety is his primary focus.
Troy serves the public with the highest level of honesty and integrity both personally and professionally. If elected, he pledges to serve the citizens of Waller County with honor, dedication, and distinction. He would greatly appreciate your support and vote.
Thank you